Earworm Entertainment – Earworm Mixtape Vol. 3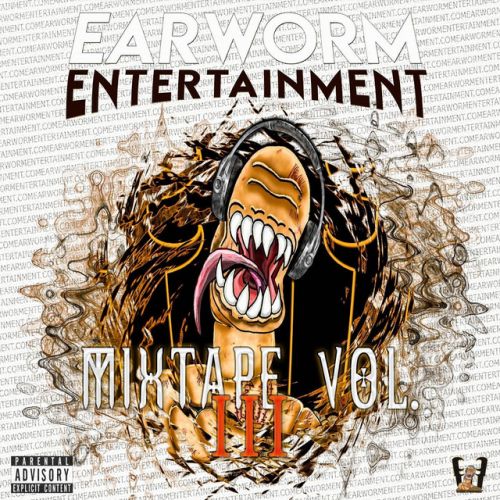 Mixtape release by Earworm Entertainment entitled Earworm Mixtape Vol 3.
"Their 3rd mixtape, Produced by Earworm Entertainment, Featuring: Canna CDK, Jay Prophet, DMK, Maniak Max, T-Stone, Mr. NoBoDy, Nekro G, Grim Singmuf, Snuff Rap Mafia, Danaic, Tone Dizzy, The Deathraver, Nick Will, -I- TheOne, KaiJai, The Chosen One, Mystah Spaulding, 2Puff Smoker, Phatzo, and Nobody5150.

Earworm Entertainment Artist Collective
https://twitter.com/earworment
https://www.facebook.com/earwormentertainment

Track-list:
1 Mixtape Volume 3 [Intro]
2 EwEaC – Heads of Hydra [Hydra Cypher]
3 DMK featuring Big Mike – Bringing It Back
4 Maniak Max – W.D.G.A.F. [Mixtape Version]
5 Grim Singmuf featuring Nekro G – That's Earworm
6 Canna CDK featuring DMK – Scary Movie
7 Nick Will featuring Grim Singmuf, Tone Dizzy, and Nekro G
8 Snuff Rap Mafia – Murda on my Mind
9 –i-TheOne – King of the Sleestakz
10 Nekro G – Interlude
11 DMK featuring Canna CDK – Fuck It
12 Phatzo – Determination
13 Nobody5150 – You Should Be Able to Beat Him Now
14 Jay Prophet – Niave Sheep
15 The Deathraver – Get Lit
16 Mr NoBoDy – Love Is Bullshit
17 2Puff Smoker, Canna CDK, Grim Singmuf, Mystah Spaulding – Smoke & Ride
18 Jay Prophet featuring The Chosen One – Take These Bullets
19 Canna CDK, Grim Singmuf, & Jay Prophet – Zenith [Wormed Out Remix]
20 Grim Singmuf featuring Nekro G, Daniac, & Kaijai
21 It's Earworm Bitch [Outro]

Official Release by Earworm Entertainment
Compiled & Encoded by Canna CDK"

Disclaimer: The opinions expressed above are often that of the artist mentioned and do not always reflect the views of A/V Revolution. If you would like to submit a video to us click here